Single Door Three Compartment Storage Bathroom Cabinet
Single Door Three Compartment Storage Bathroom Cabinet
 Introductions:
This is a White bathroom wall / wall cabinet with glass mirror. This model is made of high-quality MDF plate, simple nickel plated handle. The upper layer is the upper and lower adjustable lockers with doors, which can store all kinds of towels, bath towels and other textile products. The lower layer has three compartment storage spaces, which can place all kinds of toiletries, etc. The design of this model can do a good job of dry and wet separation for your toiletries. This bathroom cabinet can be hung on the wall or stand on the table, which can greatly reduce the installation space. For a cheap and easy-to-use bathroom cabinet, this is your best choice.

Features:
1. Solid MDF sheet
2. 15mm 12mm plate thickness
3. Nickel plated handle
4. With glass mirror door, three compartment storage space
5. Easy to install
Specification:
1. Dimensions: (18.90 x 6.50 x 23.63)" / ( 48 x 16.5 x 60)cm (L x W x H)
2. Three Compartment Locker Size: (5.32 x 6.38)" / (13.5 x 16.2)cm
3. Color: White
Package Includes:
1 x Bathroom Cabinet
1 x Accessory Bag
1 x Instruction Manual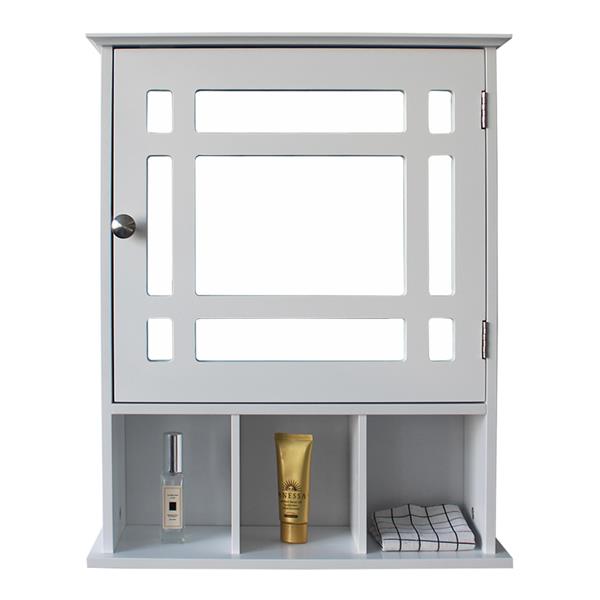 Return Instruction
If you'd wish to return an item to https://shopcrafters.net/ please follow the instructions below within 30 days of delivery.

Safely pack the items within the first packaging that came with the merchandise All Products must be returned in fitness. If the Products received is broken, please contact Customer Service.

Contact us for Returning Instructions:

📧 Mail: info@shopcrafters.net

📞 Phone : +1 (404) 666-5980
Shipments must be pre-dispatched employing a traceable method like USPS or insured mail.

Please Note:
Customers need to charge a fee to return the products to us. Shipping and handling charges and other fees aren't reimbursed. We cannot accept cash payments on delivery. you would like to supply a legitimate tracking number when filling out the return form for your return to be processed successfully.

Regular products are often returned for a refund, replacement, or a credit hold, while special or custom products can only be returned for change.

Once the Execution Center has received and confirmed your return (usually within 72 hours of receipt), you'll receive an email confirming that your return is complete. If there is a refund, it will be getting issued within 7 days. Please note that relying on the financial institution, it'll take another 3-5 working days for the credit to be credited to your account.

Have any questions?

shopcrafters.net Team is happy to help!

📧 Mail: info@shopcrafters.net

Returns
We understand that there are times, you'd possibly not like our product. And for that, we provide a 30-day window to return your product for a refund if in unused and excellent condition. If you'd wish to return your item, there is a $20 restocking fee, but you will be responsible for paying the shipping back to us.

Exchange
So on exchange a product please contact us at info@shopcrafters.net which we'll process the exchange a 20$ restocking fee may apply

Defected

If you discover your order is flawed, please contact us at info@shopcrafters.net with photos of the product (no need to return the item) we'll immediately send a replacement
Product.

Not as Described or Wrong Product

If you discover you have received the wrong item or the item is not as described, please contact us at info@shopcrafters.net with photos of the merchandise we'll provide a return shipping label, once it's tracking we'll ship a new Product immediately.

Change of Mind:

Change of Mind isn't acceptable. No, Any Such Return Or Refund will be Processed.
Please Note! color or texture could even be different from the photo as each product is natural and handmade,

Order Cancellation

We usually ship the orders immediately, therefore if you'd wish to cancel your order please contact us immediately. You will be sent a successful cancellation email by the processing department but we'll not guarantee. However, you can always return the order once you received it.

* All refunds are getting to be issued after receiving the returned products and inspected. It's going to require up to 7 Days to reflect into your bank account we actually try hard to make our customers satisfied.

Customer Support 24/7

📧 Mail: info@shopcrafters.net

📞 Phone :+1 (404) 666-5980